Accredited by
The Gold Standard
in Global Healthcare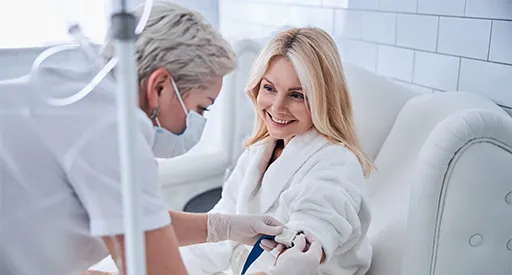 Whether you're seeking a boost in energy, improved immune function, or a revitalized appearance, our Intravenous Therapy treatments are designed to align with your health and wellness goals. IV Therapy is a specialized medical technique that delivers essential nutrients, vitamins, and minerals that your body needs to thrive, offering benefits ranging from general health optimization, cardio health, anti-aging and beauty treatments, athletic performance enhancement, stress relief, metabolism boosting, fatigue reduction, and combating infections.
Our skilled medical professionals work closely with you to assess your health and beauty needs, crafting a customized IV Therapy treatment plan that addresses your specific requirements, guiding you on your journey towards a healthier and more vibrant you.
Our Intravenous Therapy services
Anti-stress and antioxidant
Blood boost and iron
Cardio support
Diabetic support
Energy boost and fitness hydrating support
Female balance
Glowing and radiant skin
Gut healer
Hair regenerate
Immune boost and hydration
Liver detox
Memory boost
Vitamin mix
Fat burning amino acids
Muscle building amino acids
Weight gain amino acids
Chronic fatigue energy boost amino acids
Dimethyl sulfoxide and methylsulfonyl methane
Customized immune boost and amino acids (pre-surgical)
Customized immune boost and amino acids (post-surgical)