Accredited by
The Gold Standard
in Global Healthcare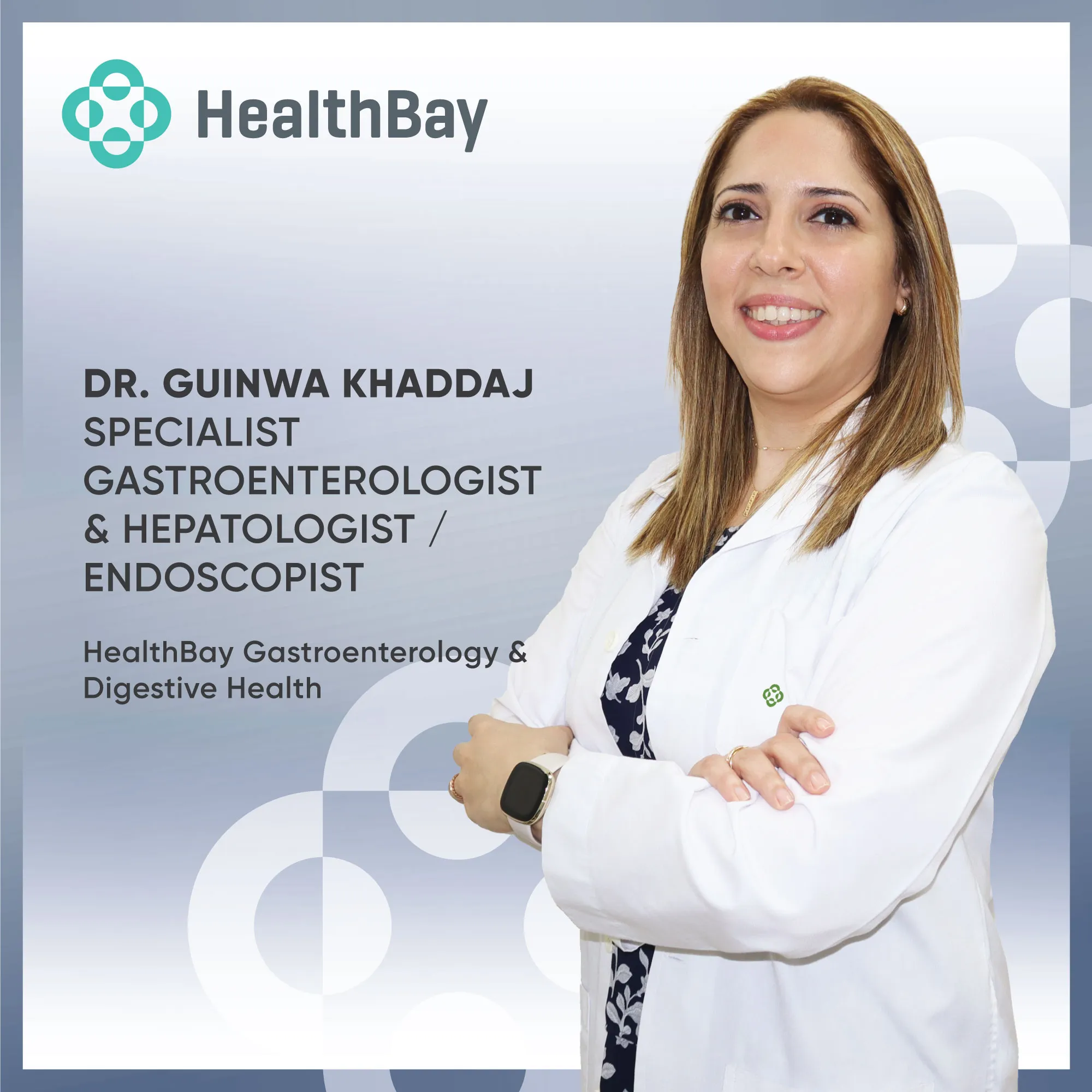 HealthBay Welcomes Dr. Guinwa Khaddaj Gastroenterologist and Hepatologist
We are delighted to announce that Dr. Guinwa Khaddaj has joined HealthBay Gastroenterology & Digestive Health – Al Wasl – Gastroenterology team!

Dr. Guinwa Khaddaj is a Gastroenterologist – Hepatologist – Endoscopist. She is fluent in English, Spanish, and Arabic. She graduated from La Universidad del Zulia (LUZ) in Maracaibo (Venezuela) in 2013, with special training in GI motility disorders done at Mayo Clinic in Jacksonville, Florida (USA), with more than 10 years of experience, performing hundreds of endoscopic cases annually. Licensed to work in Venezuela, UAE (Dubai Health Authority) and Lebanon, with work experience in private and public institutions, attending gastroenterological emergencies such as upper gastrointestinal bleeding and its therapies (variceal banding, esclerotherapy, thermal therapy with bipolar electrocoagulation or heater probe, hemoclips), foreign body removal, polypectomy, esophageal dilations, lower gastrointestinal bleeding, screening colonoscopy. She also has vast experience in functional GI disorders such as esophageal motility disorders, performing and interpreting High Resolution Esophageal Manometry, esophageal pH and impedance, and anorectal manometry.
Specializations
Gastroesophageal Reflux Disease
Liver, biliary and pancreatic diseases
Irritable Bowel Syndrome
Ulcerative colitis and Crohn's disease
Polypectomies
Endoscopic control of gastrointestinal bleeding
Screening Colonoscopy for Colorectal cancer
Capsule endoscopy
Esophageal and anorectal manometry
Esophageal pH study
Percutaneous endoscopic placement of gastrostomy feeding tubes
Dilation of GI strictures
Eradication treatment of Barrett's esophagus (HALO method)
Evaluation of dyspepsia, chronic diarrhea and constipation
Diagnosis of food allergies and intolerances
Helicobacter pylori eradication
Gastric balloon insertion and removal
Dr. Guinwa practiced as a consultant gastroenterologist in Venezuela until 2016. She then moved to Dubai that same year and worked as a specialist in gastroenterology at Rashid Hospital before joining HealthBay in 2023.
For more information or to book an appointment, call 800 4272 or email [email protected] .