Accredited by
The Gold Standard
in Global Healthcare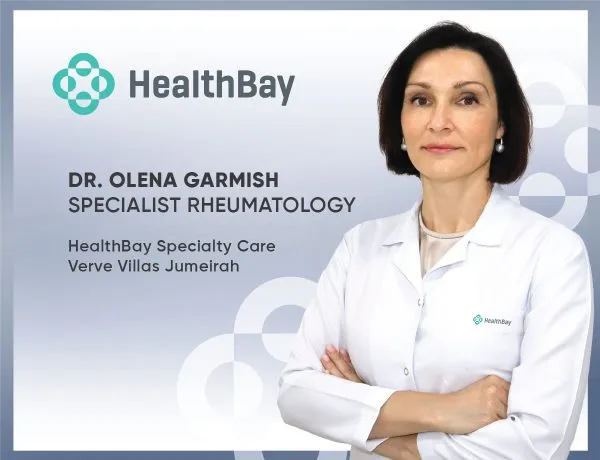 HealthBay Welcomes Dr. Olena Garmish Rheumatologist
We are delighted to announce that Dr. Olena Garmish has joined HealthBay Specialty Care Verve Villas Jumeirah – Rheumatology team!
Dr. Olena has over 23 years of experience in the field of Rheumatology, working as a Consultant Rheumatologist in the in-patient rheumatology department at Institute of Cardiology named after acad. MD Strazhesko NAMS of Ukraine and in the out-patient department in the Ukrainian Rheumatological center.
After graduating in rheumatology from Shupyk National Medical Academy of Postgraduate Education in Ukraine she underwent her training in Rheumazentrum Ruhrgebiet, Herne, Germany.
She was one of the first who start biologic therapy in Ukraine in 2003 and organized the first Center of biologic therapy at the Institute of Cardiology in Ukraine. She was an Expert in the field of rheumatology Ministry of Health of Ukraine and provide expert opinion in creating modern local guidelines for the different rheumatic diseases and National treatment program.
She is a founding member and speaker of the Ukrainian eLearning platform "Rheumahub", which is part of the State System of Continuous Medical Professional Development.
In Ukraine as part of cooperation with the patient's organizations "All-Ukrainian Organization of People with Bekhterev's Disease and "ASSOCIATION OF PATIENTS WITH RHEUMATOID ARTHRITIS" she has organized educational events for patients with inflammatory arthritis and prepare patients materials.
She has international publications and is a co-author of the Ukrainian rheumatology diseases study book.
For more information or to book an appointment, call 800 4272 or email [email protected] .