Accredited by
The Gold Standard
in Global Healthcare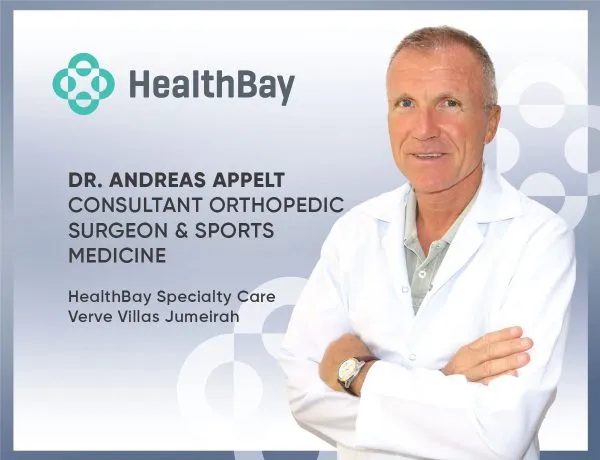 HealthBay Welcomes Dr. Andreas Appelt Consultant Orthopedic Surgeon & Sports Medicine
We are delighted to announce that Dr. Andreas Appelt has joined HealthBay Specialty Care Verve Villas Jumeirah – Orthopedic & Sports Medicine team!
Dr. Andreas Appelt is a German-trained Consultant Orthopedic Surgeon & Sports Medicine Specialist. He has more than 35 years of experience in the conservative and operative treatment of orthopedic conditions. He has treated a wide spectrum of spinal and joint cases with minimally invasive procedures and performed arthroscopic operations of the knees and shoulders, and knee and hip replacements. For more than five years, Dr. Appelt worked in University Clinic in Heidelberg, Germany, and then he operated his own Clinic in Neu-Ulm and Weißenhorn.
Specializations
Sports-orthopedic and arthroscopic surgery on hip, knee, shoulder, wrist, elbow, and ankle surgery.
Special surgeries on osteoarthrosis using cartilage transplantation.
Osteotomy on femur, tibia, ankle, and elbow.
Conservative and surgical therapy on acute and chronic spinal disorders including minimally invasive corrective surgery.
Trauma surgeries on extremities, pelvis and spinal column.
Hand and foot surgery.
Manually Chiropractic for acute or chronic neck and lower back pain and Radial Shockwave Therapy with Triggerpoint treatments.
Replacement surgery of the hip and knee joints.
Knee, wrist, ankle and shoulder arthroscopy.
Dr. Appelt completed specialization in sports medicine, chiropractics and orthopedics and he was 5 years teacher and consultant orthopedic surgeon at the University Clinic in Heidelberg.
He has practiced in Germany, Ghana, West Africa and the United Arab Emirates.
For more information or to book an appointment, call 800 4272 or email [email protected] .